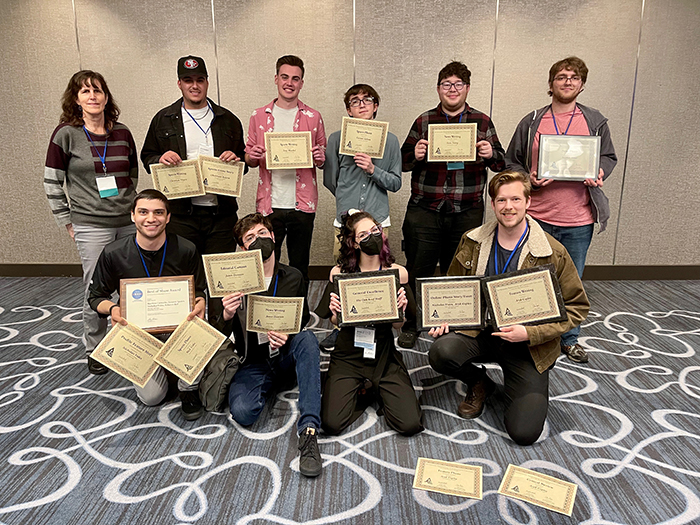 June 9, 2022, Santa Rosa, CA — Thirteen Santa Rosa Junior College (SRJC) journalism students have won 28 awards from The Society of Professional Journalists (SPJ), the California Newspapers Publishers Association (CNPA), the Associated College Press (ACP) and the Journalism Association of Community Colleges (JACC). The recognition is for work The Oak Leaf published during the Fall 2021 semester and for student contest successes during Spring 2022.
 
Rebecca Bell, Maritza Camacho, Lauren A. Spates and Nicholas Vides won Best of Show/1st Place from the ACP for their NPR-syndicated podcast, "Chronic Catastrophe." The four-part podcast about the impacts of cumulative, climate change-induced disasters on Sonoma County residents' minds, bodies and spirits, is now in contention with colleges and universities with more than 10,000 students for another national ACP award.
 
The same podcast was also recognized as the best student podcast in SPJ's Region 11, which covers California, Nevada, Arizona, Hawaii, Guam and the Mariana Islands. The podcast now proceeds to the national bracket against regional winners from two-year, four-year and graduate programs.
 
SPJ also recognized Aryk Copley for Breaking News photography and James Domizio, Alex Fuller, Emma Molloy and Cass Stewart for in-Depth Reporting.
 
CNPA and JACC each awarded The Oak Leaf an Online General Excellence award, which "reflects the hard work and dedication of the entire Oak Leaf staff," said Adviser Anne Belden.
 
The Oak Leaf staff also earned awards for news and sports writing and photography, copy editing and editorial cartooning.
 
The Oak Leaf has been in print since 1928. Oak Leaf students cover SRJC news, produce The Oak Leaf magazine and provide a constant news flow online.
 
To see the award-winning publication, visit https://www.theoakleafnews.com/