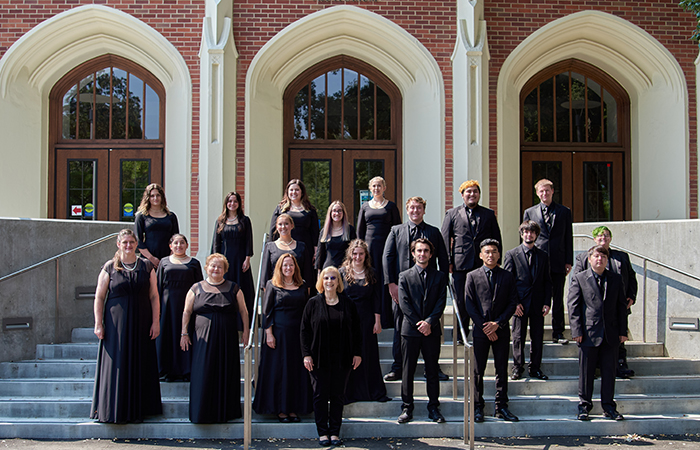 November 30, 2021, Santa Rosa, CA – Santa Rosa Junior College's (SRJC) musicians are finally returning to the Burbank Auditorium stage. In March 2020, the SRJC Orchestra, Symphonic Band and Concert Choir celebrated the facility's reopening with a performance entitled "Renaissance: The New Burbank." Due to Covid-19, the venue closed the following week. Nearly two years later, directors Jody Benecke and Jerome Fleg pick up their batons to lead the musical groups in the SRJC's Winter Concerts beginning on December 8, 2021
Join the SRJC Concert Choir and Chamber Singers in Burbank Auditorium for Viva Amore – Love Lives On.  SRJC singers will celebrate love, passion, and beauty in a program of songs that includes works in Italian, Latin, Spanish, and English. The choirs are directed by Jody Benecke and accompanied by Nancy Hayashibara. The live performance will be on  Wednesday, December 8, at 7:30 p.m. Streaming on YouTube Premiere will be available on Wednesday, December 15, at 7:30 p.m.

The SRJC Band and Orchestra will explore a musical journey following the architecture and meaning of the number four in their performance of Four Corners.  Musical selections include four movements of Dvorak's "Symphony No. 6," Putz's "Four Sketches for Band," and Leroy Anderson's "The Syncopated Clock." The concert also features "Southwest Summer" to evoke the western spirit along with music from the Four Corners region of the United States. The live performance is on Saturday, December 11, at 7:30 p.m. The audience is limited to 100 people. Streaming on YouTube Premiere will be available on Saturday, December 18, at 7:30 p.m.

A performance of SRJC's Diction & Repertoire for Singers class, A Recital of Italian Lyric Repertoire will be comprised of pre-recorded live performances. The program features some of the best-known Italian arias and popular songs by composers such as Mozart, Puccini, Verdi, and Tosti. Jody Benecke directs and Nancy Hayashibara is the accompanist.  Streaming on Thursday, December 9, at 5 p.m. 
To purchase tickets or for links to streaming videos, visit https://music.santarosa.edu/events.